Tandartspraktijk Rijsenhout
A dentist website for a new practice located in Rijsenhout. Meet 'Tandartspraktijk Rijsenhout', founded in 2021 by dentists Angelica van Schuilenburg and Charlotte van der Heijden-Burger. With their team, they provide professional, modern dental care to clients in the Rijsenhout area.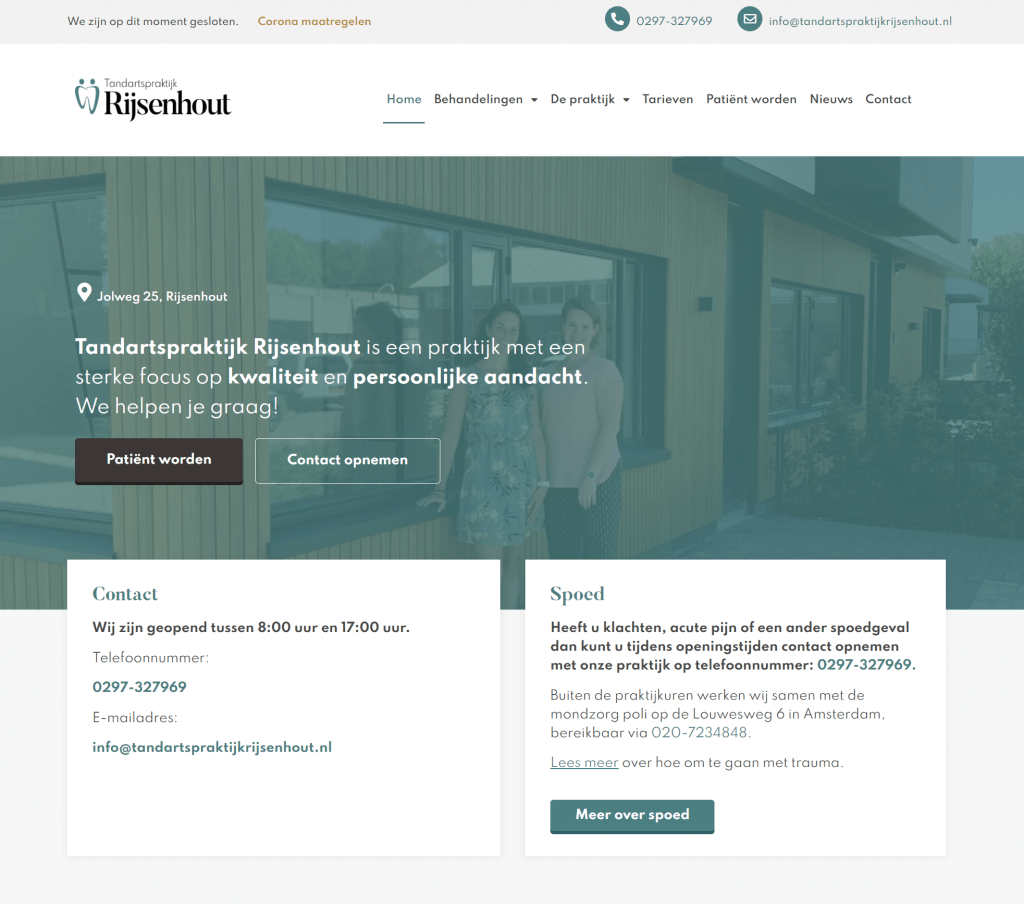 Angelica van Schuilenburg
Charlotte van der Heijden-Burger
Dental practice 'Tandartspraktijk Rijsenhout'
A modern, responsive website that has a focus on clear contact information, storytelling and generating new patients.
Aanmeldformulier voor nieuwe patiënten
Een uitdaging in deze website was om een mooi inschrijf formulier te bouwen voor de nieuwe patiënten. Het is belangrijk dat de persoonsgegevens op een juiste manier verwerkt worden. Met het onderstaande beveiligde formulier, dat tevens tegen bots en spam beschermd is, kan Tandartspraktijk Rijsenhout gemakkelijk nieuwe patiënten verwelkomen.
Aanmeldformulier patiënten 1/2
Aanmeldformulier patiënten 2/2
Natuurlijk kunnen we nog veel meer vertellen over deze website. Maar sinds zomer 2021 staat hij ook daadwerkelijk live. Ik nodig je daarom uit zelf eens door de website heen te klikken. Klik op onderstaande knop om de website te bekijken.